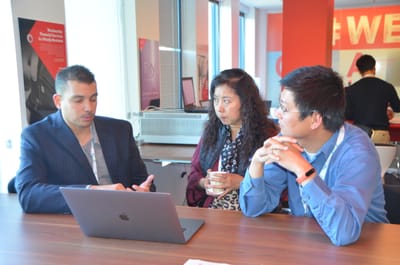 Attendees, speakers, members, delegates, subscribers and guests, referred to collectively as "Participants," contribute to this community and have a mutual understanding that we all have an important role to play in the future of telecommunications. Telecom Council community is guided by the following Terms and Conditions.Confidentiality

No confidential internal information is shared among Participants. The Council and it's Participants do not, and will not, engage in any form of collusion, price fixing, and agree to abide by all applicable anti-trust laws.
Information Exchange

Meetings, unless explicitly declared "open" to press, are NOT open to press, and Participants agree to follow the Chatham House Rule, that is, you certainly can take what you learn with you and use it, but you cannot quote sources without their separate and explicit permission. More on Chatham House Rule
here
.
Privacy Policy
The Council takes our relationship with our Participants very seriously. To help protect your privacy, we will never sell or share your contact information.
Email Publications

As part of the subscription process for our email publications, we collect basic information such as your name, email address, company, and job function. We never sell or share this information. However, we do occasionally send reader surveys and other special notes from the publisher. We also send emails from sponsors and partners (only to those who opt-in to "Partner Announcements"). In doing so, we carefully screen every email promotion for relevance; we always include unsubscribe information, and we never sell or give reader information to the advertiser (these promotions are sent through our system, not theirs).
Meetings
Meeting Participants agree to respect the letter of, and the spirit of, antitrust laws in all relevant jurisdictions. All Parties agree to do its best to stop, block, and disallow any conversations that risk even just the appearance of interference with fair markets, both on the stage and if witnessed elsewhere at our meetings. Member companies are responsible for the actions of their Delegates and interactions between delegates, speakers, hosts or other members of the community. We typically collect user-supplied information during the registration process for our meetings. This information is used for communication and logistical purposes, and to provide tailored and customized communications.
Meeting and webinar registration information will never be shared by us with our event sponsors and co-hosts. In the case that a partner or meeting host requires your information, which may be required to enter their premises for example, a notification will be posted in the meeting registration system.
Refund Policy for Meeting Registration Fees:

More than 7 calendar days prior to the meeting - $25 cancellation fee charged
7 calendar days or less prior to the meeting - substitutions only, contact council@telecomcouncil.com
There are no refunds on membership, sponsorship, or marketing fees.
Trademarks
"Telecom Council of Silicon Valley" is a trademark of The Telecom Council, Inc.
Other
Our websites and publications may contain links to outside websites. We cannot verify or vouch for the privacy policies of these sites. For registrations and services that require payment, our 3rd party vendor collects credit card information which is used for our billing purposes only and is not stored or shared. Finally, the online world is changing rapidly. The Council may need to update this Privacy Policy from time to time. If we make significant material changes in how we use your personal information, we'll notify you via email.
Members
Beyond these T&Cs, members and their delegates are also bound by the Membership Terms of Service.