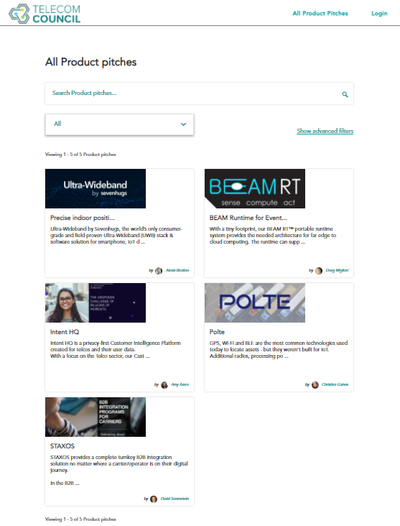 Telecom Council member benefits include a constant flow of introductions through our monthly meetings, online library of past presentations, member portal to discover and research startups, MatchMaker service tool that curates pre-screened, private, 1-on-1 meetings where there is mutual interest, and an online and in-person global network of innovation colleagues.
Member Meetings: Members meet monthly in Silicon Valley and remote attendees can join through our virtual meeting room.
Member Library: Member delegates can download presentations, agendas, research and photos from past meetings.
Member Portal: Select meetings will include online exhibits and demos in the Member Portal.
Member Lounge: A virtual room where members and attendees connect, demo and followup after a meeting.

MatchMaker Service: Select meetings use this introductions and speed-networking service to curate 15-minute private, pre-screened, 1-on-1 meetings of mutual interest.
Online Member Network: Approved delegates stay personally connected with other delegates online between meetings using our private LinkedIn group.
News Distribution: Telecom Council promotes members' innovation though our newsletter and social channels; add us to your marketing list.
Member companies' delegates will have access and instructions to these benefits and tools when approved by the membership owner. Member companies can add delegates to their membership in writing by
emailing their membership services representative
who can also help new delegates in accessing these tools.
Telecom Council members have access to 15+ meetings this year. Save these dates in 2023
:

Not sure if your company is already part of the Telecom Council member community? For a list of current members, click
here
.