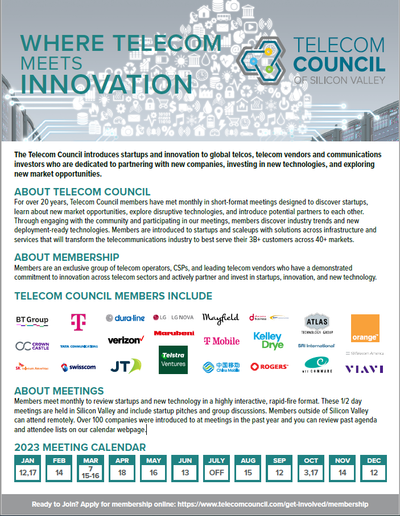 In 2001, a few cutting edge telcos committed to innovating through partnership built the Telecom Council of Silicon Valley community to help each other discover startups and meet new technology partners.
Since then, Telecom Council members have met monthly in short-format meetings designed to discover startups, explore disruptive technologies, and introduce potential partners to each other. Members, who represent almost 3B customers globally, have been introduced to over 2000 executives from 750 communication companies including 500 network-ready startups covering infrastructure, software, cloud, wireless, services, AI, VR, IoT and everything in between.
Along with regular in-person meetings, the Telecom Council community connects to innovation online. Through virtual meetings with moderated networking and focused breakouts, an online portal to discover and research companies, our member library of all startup presentations, and our MatchMaker tool that curates pre-screened, private, 1-on-1 meetings where there is mutual interest, even our remote members can fully benefit from membership.
Did you know?
4 of the world's 5 biggest telcos are Telecom Council members
60% of communication investments, startups, and VC are tied to Silicon Valley
Telecom Tech Scouts are a close community who support each other and the innovation ecosystem
Ready to get involved?
Companies involved in communications innovation are welcome to participate in this community. With 100s of opportunities to pitch or demo every year, monthly opportunities to meet and discover, ongoing opportunities to network and research, and a few marketing opportunities mixed in, everyone from global telcos to venture-funded startups can get involved.
Click here for details and applications
for speaking, hosting, sponsorship, membership, MatchMaker introductions and more.