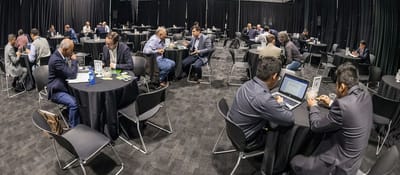 Telecom Council's MatchMaker Meeting Service facilitates personal introductions via pre-arranged, private, 15-minute meetings both in person and virtually at select meetings where part of the agenda is dedicated to introductions, technology discovery, and partnership development.
MatchMaker delegates set their profiles and preferences in advance of the meeting day, and use our online tool to accept, request, decline, and schedule meetings with other people who have signed up. Meetings generally run 10 to 15 minutes, depending on whether they take place online or in-person, and can include multiple representatives from each company around a table or in a virtual meeting room.
The result is a series of meaningful introductions over concise, private meetings in a short time. On average, delegates who use our MatchMaker service get more introductions and more continuing conversations than they expected.
HOW IT WORKS
Browse the delegate list and discover what delegates are looking for or have to offer, then make your best pitch. Craft different pitches for different attendees. When they express interest, the system automatically selects a mutually convenient time and place to meet whether a physical table or a video link. With built-in messaging available before and after MatchMaker events, face-to-face meetings cut straight to the chase.
The meeting agenda includes several hours dedicated to private meetings scheduled in advance through the MatchMaker service.
Expect several back-to-back, 10-minute meetings.
MatchMaking takes place online before the meeting day, with the majority of meetings scheduled the week before.
Include extra people from your company in your meetings to move the conversation forward more quickly
Companies can field multiple delegates, request a specific meeting time, and requests may be accepted, declined, rescheduled or waitlisted, dependent on your individual goals.
GET MORE MEETINGS
A well phrased elevator speech, succinct product profiles, photos and images, all contribute to successful meeting requests. An intuitive interface makes setting up profiles easy and effective.
Filter companies to find the right technology match before you pitch
Filter people to find the right partnership match and build your pitch based on their information
Profiles are set up prior to the MatchMaking event and can be reviewed and updated as needed
A complete company profile with relevant descriptions and keywords help relevant partners find you
Thoughtful product profiles include technology descriptions, development stage, market segment generates meaningful matches
2022 OPPORTUNITIESInnovation Showcase,
May 10-11, 2022 (Onsite & Online)
48 hours of private meetings and curated matchmaking between network-ready startups, innovative telecom vendors, and global carriers committed to working with, supporting and investing in startups.
TC3 2022,
Nov 15-16, 2022 (Onsite & Online)
Telecom Council's fall event brings together more telcos, more investors, more telecom vendors, and more communications startups than our other meetings. Topics and introductions cross the entire market, from infrastructure and wireless to hardware, software, services, and devices. From the core to the edge, the MatchMaker opportunity covers all of telecom and IoT.