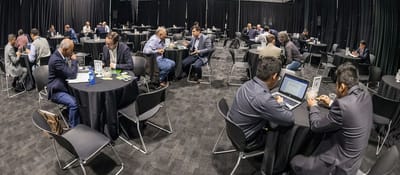 Telecom Council's MatchMaker Meeting Service facilitates personal introductions via pre-arranged, private, 15-minute meetings both in person and virtually at select meetings where part of the agenda is dedicated to introductions, technology discovery, and partnership development.
MatchMaker delegates set their profiles and preferences in advance of the meeting day, and use our online tool to accept, request, decline, and schedule meetings with other people who have signed up. Meetings generally run 10 to 15 minutes, depending on whether they take place online or in-person, and can include multiple representatives from each company around a table or in a virtual meeting room.
The result is a series of meaningful introductions over concise, private meetings in a short time. On average, delegates who use our MatchMaker service get more introductions and more continuing conversations than they expected.
HOW IT WORKS
Browse the delegate list and discover what delegates are looking for or what they have to offer, then make your best pitch. Craft different pitches for different attendees and allow the system to automatically select a mutually convenient time and place to meet - whether a physical table or a video link. With built-in messaging available before and after MatchMaker events, face-to-face meetings cut straight to the chase.
The meeting agenda includes several hours dedicated to private meetings scheduled in advance through the MatchMaker service.
Expect several back-to-back, 10-minute meetings.
MatchMaking takes place online before the meeting day, with the majority of meetings scheduled the week before.
Include extra people from your company in your meetings to move the conversation forward more quickly
Companies can field multiple delegates, request a specific meeting time, and requests may be accepted, declined, rescheduled or waitlisted, dependent on your individual goals.
GET MORE MEETINGS
A well phrased elevator speech, succinct product profiles, photos and images, all contribute to successful meeting requests. An intuitive interface makes setting up profiles easy and effective.
Filter companies to find the right technology match before you pitch
Filter people to find the right partnership match and build your pitch based on their information
Profiles are set up prior to the MatchMaking event and can be reviewed and updated as needed
A complete company profile with relevant descriptions and keywords help relevant partners find you
Thoughtful product profiles include technology descriptions, development stage, market segment generates meaningful matches
THE TELECOM COUNCIL DIFFERENCE
Nearly every conference offers a meeting service, but not all of them are managed in the way that we do here are the Telecom Council. Our focus is on helping participants secure the meetings they need - onsite, online or beyond the event.
Product profiles make it easy for prospective meeting partners to understand more about your proposition and are keyword searchable
Attendee lists are searchable and you can "favorite" individuals as you triage your outreach
Pre-assigned availability ensures meetings are only scheduled at mutually convenient times
The service element kicks in if you are having trouble getting requests, accepts, declines, or other feedback. Our team gets involved to help you fix your demo, adjust your pitches, nudge unresponsive people, and facilitate email introductions when the planets don't align or a meeting is missed
2024 OPPORTUNITIES
Telecom Talks, May 7-8, 2024
Our next MatchMaker is focused on introducing network-ready startups to startup-ready networks and communications-focused CVCs. This instance of the MatchMaker Service facilitates 200 curated, 15-minute introductions across dedicated on-agenda meeting time and over flow meetings in zoom. For new technology companies who can sell to, sell through or partner with telecoms, this MatchMaker is built for you.