Silicon Valley, California, Nov 2017/Meeting Recap/ Every year I struggle to articulate how one of the smallest events on the circuit can offer superlative return on investment, but each year I hope I get a little closer. "Intimate" and "focused" are not words that you would hear echoing in the cavernous halls of Mobile World Congress, but at TC3 this year, they became a recurring theme. Since 2014, we've been compared to one of the largest communications conferences on the planet: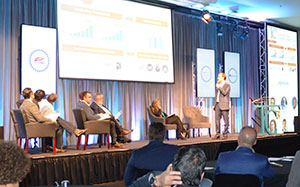 "TC3 is clearly the best event in the world to meet the decision makers in our industry. We learned more in the one to one meetings than at MWC and other industry shows combined" Chris Jensen – Yo! @ TC3 2014
And again this year many conversations compared the connections made at TC3 favorably to those made in Barcelona. We understand the challenges facing startups as they strive to meet the right people in the telco ecosystem, or present their proposition in a way that will resonate with the carrier community. We are a small event not by accident but by design. Our audience is selected and selective, making every conversation valuable. You might say, it's small but mighty!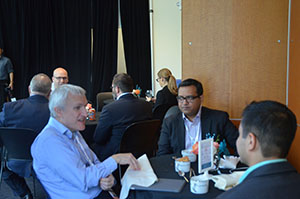 Connectivity featured high on our agenda, with topics ranging from Closing the Broadband Gap to Thinking Disruptively for 5G, from Industrial IoT to Connected Car; Case Studies highlighted how startups connected with carriers to bring their propositions to the market; three Rapid Fire Sessions introduced new companies from across the globe; Innovation Panels discussed the best way for startups to engage with telcos and enterprises. Connectivity was also high on every delegate's agenda as they climbed the stairs at the Computer History Museum with the purpose of meeting the right people to move their business forward via ad hoc networking and the 850 pre-scheduled 1:1 meetings.
"Love the networking setup, very friendly and well-organized. Met many telco reps, looking forward to next level engagements" Naveed Alam – Altia Systems @ TC3 2017

Like the startups we aim to serve, the Telecom Council is small but mighty. By the end of your TC3 experience, you will know each member of Telecom Council's small team by name, because without exception, they strive to ensure every delegate has the best possible experience. From facilitating last minute presentation changes, to rescheduling one on one meetings, to making personal introductions, Amy, Carmen, Diena, Marianne and Sean are the small but mighty team who go the extra mile to make TC3 a must-attend annual event.
Want to see what you missed? Check out this year's agenda and attendee list.
We would like to thank our sponsors, speakers, demo companies and delegates for contributing, taking meetings, and being part of the ongoing conversations started at TC3. Members can view the presentations in our Member Library