Agenda, Attendee List and Presentations are available to members in the PRESENTATION LIBRARY plus a VIDEO RECAP from the demo companies
Silicon Valley, California, May 26, 2016/Meeting Recap/ Coming off a packed audience for our May Service Provider Forum (SPiF) held Thursday Morning (5/26) at Nokia Growth Partners, our NFV Forum session: vCPE discussed how Communication Service Providers can leverage vCPE to reduce cost, complexity, and hardware.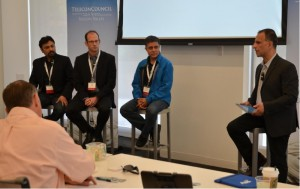 Virtualized Customer Premise Equipment (vCPE) refers to the hardware network operators manage on the premises of the enterprise and consumer customers. Historically, it has been a box with a dedicated function, or in the case of enterprises, multiple dedicated boxes. But leveraging NFV technology, we can install white boxes on-prem, which promises to reduce the number and the cost of the physical hardware. But the question remains: how exactly is it to be implemented and how best to monetize the offerings given reduced need to ship a box / roll a truck?
Moderator, Christos Kolias, Ph.D., Sr. Research Scientist & Principal of Netsquared S at Orange lead off the discussion with a slide deck in demand by an audience of fifty Telecom Council members, vendors and guests. For the consumer, the obvious opportunities are the home router and set-top box. For the enterprise, an "App-Store" like business model could exist for VNFs to deploy on-demand / mix & match suite of customer-selected services for the vCPE once enabled. The CapEx / OpEx savings could be realized by both the operator and consumer–in fact, Doyle Research estimates that vCPE will account for more than 20% of NFV-related services by 2018″ with higher margins, it is assumed, than the CPE equivalent it has replaced.
Prepared to debate every point, we had three panelists speaking from unique perspectives in their respective industries: Cisco Systems represented by Liad Ofex, Director, Product Management; Ashish Jain, Director of Solutions Marketing at GENBAND, a private $1B telecom solutions provider, and entrepreneur Sanjay Uppal, President/CEO of VeloCloud, which delivers SD-WAN solutions to the enterprise (which Gartner maintains will take hold in full a third of all enterprises by 2019.)
Perhaps the only way to convey the nature of the panelist discussion, its volume and creativity is to display what was both the last slide of Dr. Kolias's presentation and a freebie handed out at the VeloCloud Solution Spotlight at the back of the room: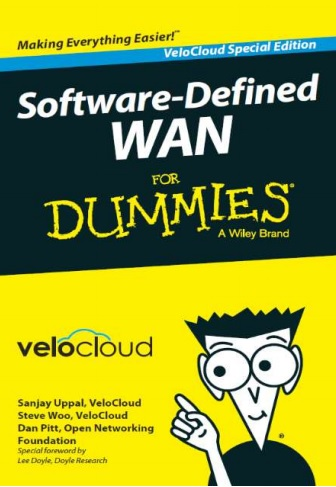 This was a meeting not to be missed. We will be scheduling a rematch soon.
Agenda, Attendee List and Presentations are available to members in the PRESENTATION LIBRARY plus a VIDEO RECAP from the demo companies