Agenda, Attendee List and Presentations are available to members in the PRESENTATION LIBRARY plus a VIDEO RECAP from the demo companies
Silicon Valley, California, Apr 10, 2016/Meeting Recap/ "Imagination is more important than knowledge," we were reminded by Gary Silberg of KPMG, as he opened our discussion on Autonomous Vehicles to a sell-out crowd of Telecom Council and AutoTech Council attendees at Maxim Integrated. Of course, he was speaking of Albert Einstein's famous quote—notable given that Einstein possessed a fair bit of knowledge himself. But this ability to dream, to wonder, to envision—which is the heart of all innovation (technological or otherwise)—was on stage Friday as speaker-after-speaker communicated to a packed room of what is to come in the field of self-driving cars; and not just the cars themselves, but applications as inevitable as seat belts and airbags: dash-mounted lasers to monitor driver alertness, satellite-assisted cruise control to navigate traffic around a bend not yet visible, and even probe-mounted cameras to see down blind cross streets for split-second emergency avoidance when necessary.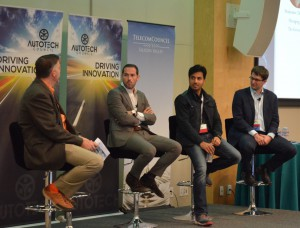 The aggregation of talent, ideas and industrial powerhouses in the room provided, in toto, that glimmer of insight which causes an attendee to realize that everything new to us now is destined to be commonplace to as it races forward to achieve the level of ubiquity it deserves.
Agenda, Attendee List and Presentations are available to members in the PRESENTATION LIBRARY plus a VIDEO RECAP from the demo companies