he Telecom Council Showcase took place this week, helping our top 12 showcase startup companies engage with network operators worldwide. The Showcase is our pared-down version of an incubator, wherein we select our Class of 2018, the top 30 most appealing startups and entrepreneur ventures in telecom. From our class of 30, we arrange the Showcase, presenting the following companies through presentations, demos, open networking, exhibition, and most importantly, over 130 scheduled 1 on 1 meetings.


Averon
Averon is the developer of the world's first fully automatic and ultra-secure mobile identity verification standard. Protected by 25 patents, Averon's conversion-increasing innovations authenticate users by leveraging realtime mobile network signaling and encryption hardware already contained in every smartphone. Averon is trusted by the world's leading ridesharing and transportation services, digital currencies, cryptocurrency wallets, and telecommunications companies to provide the most seamless user experience with the highest caliber security.


Collinear
Collinear is pioneering next generation, ultra-high capacity, over-the-air connectivity solutions for global communication networks. By combining Free Space Optics (FSO) and E-Band RF technology with intelligent traffic management, our solution, Alex 1.0, can operate at speeds of 20Gbps, over a distance of up to 5km, enabling fluidity in communications to catalyze how people and things bring about transformation. The company is based in Silicon Valley, California (in Santa Clara), with an office in Singapore.


Everest Networks
Having launched their industry leading Ultra-High-Density (UHD) Wi-Fi solution in 2017, achieved outstanding success in their first year after securing key reference sites such as Lincoln Financial Fields, home of the Super Bowl champions, The Eagles. Everest's solution addresses today's most pressing UHD issues such as; high user engagement, high network capacity, and fast throughput, whilst delivering a lower total cost of ownership (TCO). This makes Everest Wi-Fi the platform of choice for venues such as stadiums, arenas, convention centers, shopping malls, transport hubs, auditoriums, campuses, and smart cities.


inVoli
The integration of drones into today's air traffic is a challenge which goes beyond the limits of the aviation world. Nowadays, telecommunication companies actively look into the matter and INVOLI stands as a bridge between the two worlds: INVOLI offers an air traffic data platform, providing situational awareness to drones and enabling collision avoidance between drones and airplanes and this data is gathered through in-house developed devices organized in a network built in partnership with telecommunication companies.


Kentik
Kentik is the network traffic intelligence company, turning network traffic – billions of digital footprints – into real-time intelligence for both business and technical operations. Network operators, engineers, and security teams use Kentik to manage and optimize the performance, security, and potential of their networks and their business.


Kiana Analytics
Protecting people, locations and assets is a critical part of any enterprise. Robust security surveillance systems are often inadequate or cost prohibitive, especially when it comes to locations with the large square footage. The Kiana Secure solution integrating WiFi Signals with Camera images offers peace of mind to facility managers, security guards, and corporations across the globe.


Morro Data
CloudNAS 3-in-l File Services include Storage Consolidation, Multi-Office Sync, and Disaster Recovery. It employs a hybrid cloud architecture to enable high performance file access of cloud data for primary and secondary storage. Morro's Cache & Sync technology is based on edge computing / fog computing and processes files locally for de-duplication, compression, encryption, and auditing. It works with server in the cloud and edge gateways at other locations. Morro's Global Distributed File System syncs edge gateways in remote sites and global users can collaborate using the familiar network interface with high data access performance. This solution can be used in IOT and Fog Computing applications.


PayJoy Inc
PayJoy was founded in 2015 in San Francisco with the mission of making smartphone technology and financial services affordable to everyone worldwide. PayJoy's patented technology for locking smartphones and proprietary data science for underwriting customers enables people who lack credit to qualify for an installment plan to purchase their first smartphone. Today PayJoy offers finance to millions of customers in the US and Mexico, and is expanding throughout Latin America, Asia, and Africa in 2018. PayJoy's team of 60 professionals bring premier fintech experience from Google, Facebook, Amazon, PIMCO, McKinsey, Oportun, and Merrill Lynch. PayJoy is funded with over $30M of equity and debt from top fintech investors including Union Square Ventures.


Qredo Ltd
Qredo is building the first open and interoperable cryptocurrency to connect telecoms across carriers and borders, opening up billions in top-line revenue and transaction flows by making customer-to-customer payments as easy as sending an SMS. Qredo's payments platform extends the cryptocurrency to enable telecom scale roll-out of instant-on B2B and B2C managed financial services all under your brand. Solutions for consumer and business customers satisfy online, in-store and peer to peer mobile payment use cases.


Rivetz Corp
The Rivetz Network is a device-centric ecosystem that offers users and service providers a set of tools for greater security and transactional quality in applications. The Rivetz developer toolkit – which enables developers to connect their applications to the Network – leverages the built-in, hardware-based cybersecurity capabilities already embedded in billions of devices. Rivetz provides a new operational and economic model of decentralized security, allowing users to protect digital assets across their entire collection of devices, while giving enterprises provable controls with audit.


Spectrum Effect
Spectrum Effect has pioneered the application of new machine learning algorithms for mobile network data designed to detect, characterize, and localize RF interference. Protected by more than 10 issued patents and numerous pending applications, Spectrum Effect's breakthrough analytics solution, Spectrum-NET, enables operators across the globe to protect their sizable investment in licensed spectrum. Spectrum Effect has assembled a world-class R&D team and created a compelling roadmap building upon its revolutionary solution for additional high-value use cases for UMTS, LTE, and 5G.


Unmanned.Life
Unmanned Life provides Autonomy-as-a-Service across major verticals of the economy. Unmanned Life's solution is AI driven software platform integrates different types of robots (drones, unmanned ground vehicles, IoT devices and other robotic systems) with a variety of capabilities to work together as robust autonomous fleets over the cloud via a single management interface. The platform enables these autonomous industry 4.0 solutions to interface with business information systems and enterprise AI, work both indoors and outdoors, with or without GPS, over Wi-Fi, 4G LTE or 5G.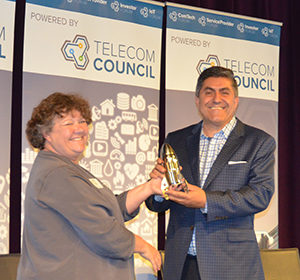 These startups promise good prospects for success, and carrier adoption. One of the main reasons for this is that the selection process includes months of voting from the various telecom carriers that are part of the Council's membership. We saw a wide range of company types, from network analytics, to security, to crypto commerce, to drone automation and air traffic control – each with a way that network operators could play a significant role.
As part of the fun, the Council conducted a semi-scientific exit poll of the attendees to declare a "winner" of the day. Congratulations to Kiana Analytics for grabbing the most interest from potential partners. That said, every one of the startups had engagement for follow-up from multiple important carriers, so if progressing towards partnerships is the yardstick, then everybody was a winner.
The Council would like to thank Citrix for their hosting, and their demo table with virtualized IoT hubs, among other things. As usual, the presentations from the meeting are available to members in the Member Library.