Agenda, Attendee List and Presentations are available to members in the PRESENTATION LIBRARY
The Telecom Council's 2016 Innovation Showcase matches 20 well-positioned, early-stage communication startups with strategic fitting telcos, vendors, investors, and potential partners in back-to-back pitch meetings.
The Class of 2016, which was selected by Telecom Council's investor and service provider members based on standard Telecom Council criteria of innovation, momentum, viability, and management, will begin scheduling their 1-on-1 meetings on March 1st using our online matchmaker tool. The meetings will take place on March 18 at the Juniper Aspiration Dome in Silicon Valley.
Thank you to our 2016 Judges:

This year's showcase will be open to the public over lunch to allow anyone in this innovation ecosystem to meet the startups in the Class of 2016 (sneak peek below) while they take a break from their back-to-back private meetings with telcos, investors, and vendor partner prospects to demo their solutions over the lunch hour.
Those attendees who are looking to have deeper conversations with the Showcasers can request to participate in the Matchmaker Meetings before and after lunch. These meetings are 10 minute, face-to-face conversations that are scheduled prior to the Showcase using the Telecom Council's online networking tool. Attendees can schedule their Matchmaker Meetings with the Showcasers from March 1st up until the Showcase date.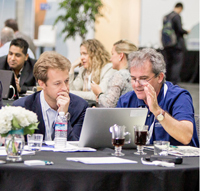 Pavilion Sponsorship for VC / Incubators:
Organizations, such as incubators or venture funds, can showcase their early-stage companies to the executive innovation scouts by holding a team meeting in a pavilion where their companies can demo and network. See all the details about this and other sponsorship options on the Sponsor Tab.
Press Attendance:
The Telecom Council only opens its doors to press a few times per year—this is one of them—so do not miss out on this opportunity to meet the innovators who are driving the telecom industry forward today.
Agenda, Attendee List and Presentations are available to members in the PRESENTATION LIBRARY