Agenda, Attendee List and Presentations are available to members in the PRESENTATION LIBRARY
Silicon Valley, California, Feb 20 2015/Meeting Recap/ Unlicensed Spectrum (ULS ) was the hot topic at the Telecom Council yesterday. The ULS debate used to be carrier versus scientists, where both wanted access to more spectrum, but carriers singularly wanted licensed spectrum at auction, which they could bid and win. But the discussion has shifted, and all parties seem to be asking for more spectrum of both kinds, unlicensed and licensed.
Carriers have seen some advantages from technologies such as Wi-Fi and Z-wave for home automation, and have learned to benefit from the ability to offload traffic to unlicensed bands when possible. For that reason, they are investigating technologies like LAA (License Assisted Access), where a cellular network incorporates both ULS and licensed, running all controls in the more secure licensed bands, and running data over LTE technology in the ULS, too. If there is any weakness in the ULS, LAA can fall back to just using the licensed band. On our panel, Qualcomm and Ericsson were promoting this technology, and noted that their carrier customers were asking for it.
LAA was definitely a big part of our discussion, but there was dissent in the room as to whether it was truly necessary, given that Wi-Fi already occupies that spectrum, works well, and is notably cheap. So why use LTE in ULS if Wi-Fi is already killing it there? The answers from those who favor the technology were that it will allow greater QoS, better security, and better spectral efficiency (on the order of 2x-4x) versus just using Wi-Fi.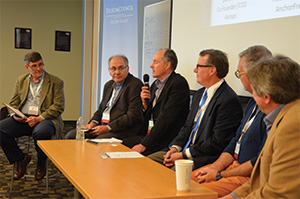 Another hot topic in the discussion was Coexistence – that is, how do multiple different air interfaces share the ULS nicely, without interference and stepping on each other's toes. Many solutions to the coexistence problem were discussed, including databases, 'listen first', and 'do no harm' rules. The consensus was that coexistence is a problem that has been mostly solved, but would occasionally rear its head in the real world. Here is Qualcomm's whitepaper on LAA coexisting with Wi-Fi.
It was towards the end that our discussion turned into a meaty debate: If ULS was capable of delivering so much capacity in small "cells", so cheaply, would the role of the wireless carrier not diminish? Could future users not just switch to cheap Wi-Fi smartphones, some of which had no WAN radio, and some of which had WAN radios for back-up coverage where they could not find a WLAN? (Sort of like Republic Wireless's model.) Today, some 80% of a phone's traffic is over WLAN, and a similar amount happens in the home or the workplace — do we need to pay a cellular carrier $50/mo to "fill in the coverage gaps". And while we did not solve these questions, the belief was that it will be difficult for carriers to retain as much market power when WLAN coverage grows, more ULS is available, and the number of free or very low-cost connectivity solutions grows.
Many other topics were covered, and members can see the photos of our whiteboard in the Member Library to check them out.
Agenda, Attendee List and Presentations are available to members in the PRESENTATION LIBRARY