Agenda, Attendee List and Presentations are available to members in the PRESENTATION LIBRARY
Silicon Valley, California, Mar 20, 2015/Meeting Recap/ The Telecom Council's Wearables meeting took place at Imagination Technologies, where we got a demo of the various devices that use Imagination silicon. The agenda covered a wide range of wearables, from theater goggles to sensors, to child smartwatches. And while we covered a great breadth of devices and users, the main focus was predictably on the smartwatch, because that's where the zeitgeist seems to be. In today's recap, instead of summarizing the meeting, I'm going to just summarize the panel, then give you some of my thoughts about the value the smartwatch promises.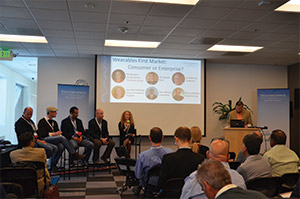 Our panel visited the topic of whether smartwatches would be an enterprise or consumer-first technology. Jennifer Gibbings of Verizon explained to us how the enterprise use cases often have ROI based on real-time data flow and high reliability, so that they would often use an LTE solution, but some uses would want extehnded battery life, and that the legacy 2G CDMA networks were and ARE renown for their low battery drain. While 2G GSM networks are being put to rest, 2G CDMA is not. Jim Merrick at Qualcomm agreed that cellular-connected wearables were a focus for Qualcomm, but I questioned him on whether consumers would agree, given the monthly charge. Jim said that it's not every wearable, but many make sense on cellular, and that appropriate carrier business models need to be adapted, as they have been for tablets. Jim also talked about programs Qualcomm has to help startups make a final product using reference designs and help making manufacturing contacts. Kenny Mathers, of MediaTek also has specific formal programs to help new entrants get products from idea to store shelf. Kenny said that MediaTek is focused on low power, but strong processors for wearables and IoT. Sam Massih, of InvenSense talked about some of the use cases that will drive wearables, and also spoke to InvenSense's products ability to do processing on the sensor chipset, and thus not keep the main processors awake, thus lowering power use considerably. Indicating the relative overall importance of battery life for the category, the whole panel responded with interesting ideas about reducing power load from the wearable. Some good ideas included using dead-reckoning with accelerometers, corrected with interval bursts of GPS, to reduce the overall battery drain of full-time GPS location alone. Jef Holove, CEO of Basis, told us that the consumer space already had "won" the battle by pulling in the first significant paying customers for wearables in the health and fitness sector. But Holove was quick to point out that this was just the tip of the iceberg, and there is much more adoption ahead, which could be consumer or enterprise. His focus at Basis is to produce a product with excellent design that people will WANT to wear, whether in business or consumer cases.
That's a summary of our panel and the rest of the presentations are in the library. Now for some of my thoughts on the value of the smartwatch as an early adopter and tech evangelist. But remember, I'm not blind to the fact that the rest of the nation is NOT me, is NOT Silicon Valley. I adopt tech for tech's sake, they do not. After 20 years with a research budget and a geek's curiosity, I've learned that what I will buy is not representative of mass market, but I can see where there is overlap. So, I differentiate what is good for me, and what others will enjoy.
Smartwatches are all over the news these days. Apple's launch of the Watch is fueling the fire, but a weird article in the NYT today seems to indicate we have reached "Peak FUD" against wearables. I am actually shocked, overall, at the amount of negativity and public ridicule of the concept of smartwatches, and reminded of how people treated smartphones before the iPhone made it common, or PVRs before Tivo made it obvious. The question that all the consumers seems to be uttering these days is:
"Why on earth would I want a smartwatch. My phone already does all those things, and I wouldn't wear that thing it even if it were free."
This is a case of users being naïve about the value proposition the category offers. This is one of the Steve Jobs moments where we'd best not trust the market research. The fact of the matter is that the smartwatch offers clear value IN ADDITION to, and complementing the smartphone. They are hardly in competition. Each makes the other better. Here's what the public fails to realize.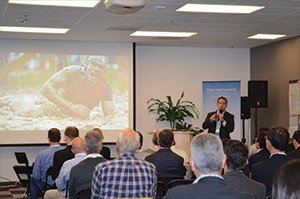 Active smartphone users get about 120 notifications per day. That includes calls, SMS, WhatsApp, Facebook feed, email, Pokes, Tweets, app notifications, alarms, etc. Many of these are important and require immediate reaction, many are important but only require awareness, some are important but can be dealt with later, and many are simply trivial. The ability to triage these 120 and growing notifications in a glance or swipe of the wrist is time-saving, convenient, discreet, and powerful. I would argue that this value proposition alone is enough to justify a wearable (if it isn't too onerous or ugly.) But, like the TV ads say…
…Wait, there's more!!
If you ever need to know the time or date in a glance, smartwatches are good for that, too.
If you are driving, and touching your phone is illegal, you can still see your notification or message on your watch.
It saves you having to enter a password or login for simple glances and responses
If you are riding a bike or engaged in some sport or exercise, you can still see your notifications.
If you are using your hands, dirty, or otherwise unable to reach the phone
When one clears notifications from the watch, they are also cleared from my phone, preventing a backlog of notifications
The value of Google Now type of notifications. It's AI on your wrist.
Many smart watches now have a microphone, and work with Siri or Google Voice Actions, so you can initiate actions, search, or reply
(This is the powerful reason I am willing to accept the daily charging of the Moto 360 over my 5-day Pebble)
A microphone-enabled watch could be integrated into a smarthome to control a TV, music, HVAC, garage door, carlights, etc.
Devices like Fitbit are popular to track steps taken, or heart rate. Smartwatches have integrated this function.
So, there's just a few ideas that have wide appeal. There are many more broad value propositions, and many more that have niche appeal. This is not just some goofy Silicon Valley idea. This is a mass market category. We just have to make sure the costs are less than the very large value:
price
Battery: too frequent, inconvenient charging
too big
too ugly
fragile
unreliable
Other than the battery issue, the industry is likely to solve the others in short order. As for battery life, the need for a daily charge is a tough pill to swallow. But in light of the long list of value propositions (which will only grow with an open app ecosystem) I think it's a hurdle that will be jumped as opposed to removed. Remember, we didn't charge our feature phones each day, either. Many CDMA phones ran 3 days.
The public may be oblivious to the value proposition of the smartwatch. And really, they're only right about one thing: unless a company can produce a device that is: affordable, attractive, and useful in a single package, we'll never see mass market adoption of the category. But we're not very far off!
For all the documents, powerpoints, and presentations from our wearables meeting, please visit our member library.
Agenda, Attendee List and Presentations are available to members in the PRESENTATION LIBRARY