Thank you to our Sponsor

Agenda, Attendee List and Presentations are available to members in the PRESENTATION LIBRARY
Silicon Valley, California, Feb 12 2015/Meeting Recap/ LTE-A is starting to roll out, and the Telecom Council held a meeting to discuss what's in the works, and what is next. We learned from Current Analysis' Peter Jarich that there are 49 LTE-A launches worldwide already, and that Carrier Aggregation (CA) was the first element of LTE-A to catch on, with carriers able to bond multiple non contiguous channels in one handset, and deliver better service to individual users. Qualcomm's Prakash Sangam added that CA offered capacity benefits, and lower latencies as well as just giving one user a fatter pipe when congestion is low. Between Jarich's comments and the rest of the meeting, it seems like LTE Broadcast, HetNets, and MTC (Machine Type Communications) are next in line to see the benefits of LTE-A.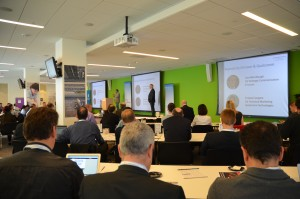 To be fair, though, many of the arguments made at yesterday's meeting were strongly debated on both sides.
While some discussed how IoT, and specifically the connected car were a natural target for LTE and LTE-A, many attendees questioned the value of LTE-A for the IoT, where device makers are often looking for small, cheap, low-power, low-data devices, not necessarily mobile broadband.
Qualcomm and Ericsson discussed the potential of LTE over unlicensed spectrum, such as the 5GHz that is commonly used for Wi-Fi today. LTE in unlicensed spectrum uses the licensed LTE bands for all control channels and as a fall-back, but can use the unlicensed bands for bursts of data in a local area without loading up the WAN. Qualcomm showed how LTE could make more efficient use of the WLAN spectrum, while having no negative impact on normal Wi-Fi operation in the same band. But others questioned the value of displacing the cheap and functional Wi-Fi. All agreed that LTE is potentially more efficient, but want to see more data on the benefits of LTE in unlicensed bands.
Arda Aksu, who works on Technology Strategy at Verizon, explained how Verizon was approaching LTE-A aggressively, and already working with CA and MIMO. He discussed field experiments with LTE Broadcast technology at the Superbowl. An audience discussion ensued, and concluded that it does not require a lot of users of an LTE Broadcast signal to justify the expense of the technology or broadcast bandwidth. Since it potentially replaces so many unicast signals, a handful of users watching the broadcast during a stadium event may be enough to trigger eMBMS ROI. Other uses for broadcast beyond stadium/sports events could be things like OS updates, which go out to a large number of users.
Our panel clarified how LTE-A is here, and brings with it a handful of well-defined 4G services.
CA
Scalable channel bandwidth
Multiband and LTE in unlicensed
LTE eMBMS (Broadcast)
Lower latency
HetNet
MTC or IoT
MIMO
But how many other (arguably) 4.5G services didn't seem to be emerging fast:
Self Optimizing Networks
SDN
CoMP (Coordinated Multipoint, which connects phone to multiple towers)
Relay Nodes
So, it seems like we're well on our way, and customers should start to take advantage of the first LTE-A tech in 2015. The technologies are defined, and the low-hanging fruit have already been identified. But our panel explained how the future is a lot more cloudy, since 5G lies ahead, but is yet so very broadly defined that nobody can even credibly tell you what 5G is.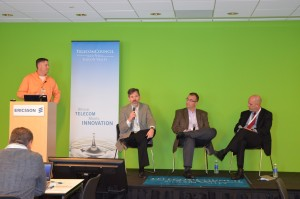 Agenda, Attendee List and Presentations are available to members in the PRESENTATION LIBRARY