Thank you to our Sponsor

Silicon Valley, California, Jan 23 2015/Meeting Recap/ The field of cameras and imagery is booming. Smartphones, selfies, drone selfies, selfie sticks, Snapchat, Instagram, photobucket, and on and on. The successful new categories of products, startups, and human activities in and around photos continue to create value for users and investors alike. So where is all the magic coming from? Analyst Hans Hartman from Suite 48 Analytics told us "There is hockey stick growth in images taken, and no sign of a slowdown." How is it that photos are such an endless source of value? On January 22, the Telecom Council discussed just this issue in our Cameras & Photos meeting sponsored by Dolby.
Flickr CEO Bernardo Hernandez said, "photos are the 2nd content revolution after email. The same way email made everyone writers, digital photos are turning everyone into photographers." Camera phones are simply a democratizing force, bringing imagery to everyone, but also doing so all the time, from the convenience of their pocket or purse.
The main take away is this: photos deliver joy. As Chairman Derek Kerton put it during the panel, "A good picture seems to have this 'crack cocaine' effect, like an needle straight to the vein. I know of very few things that can deliver pure joy so quickly and effectively." Perhaps this is the reason for the underlying dynamism of the imaging sector. With a capacity to trigger emotional responses, customers will pay, or at least offer their attention.
Our speakers also discussed how photos don't just deliver pure joy, but can also trigger various emotions. In fact, photos have the ability to tell a story, but much faster than the proverbial 1,000 words. If Hernandez is right that everyone is now a photographer, we can also all become storytellers. In the case of selfies, photos tell a story, but also serve for personal promotion.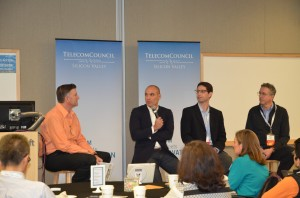 Some of our speakers come from video editing and presentation companies, and the audience discussed and concluded that while there is overlap, videos and photos are distinct media, serving different goals in different ways. The challenge with video is taking the raw footage and editing it into something presentable, and doing this quickly and painlessly. Two of our presenters, Magisto and WeVideo demonstrated their solutions for doing just that. Meanwhile, Dolby Labs' John Couling discussed how it is the fidelity of the image and sound that help make the imagery immersive, and the challenge of representing reality is no longer pixel density, but rather Dynamic Range (DR) of lighting – that is – brighter brights and darker darks. It turns out, our cameras are already able to capture more DR, and our displays are already capable of displaying it. The problem is that our dominant file format, JPG, is from 1985, and isn't capable of storing that lighting detail. Dolby is working on an updated JPEG standard, reverse-compatible, but able to capture more lighting range.
Our meeting also looked at new technologies and developments in the imaging space, such as computer vision, deep learning, non-protruding 6x optical zooming, advertising, 3D imagery, VR, gesture recognition, Augmented Reality, facial mapping, photo shoebox management and indexing, in-stream compression, silicon improvements, GPUs, autonomous cars, cameras-as-sensors and much more.
And yes, we had photos and videos of cute kids, dogs, and cats.